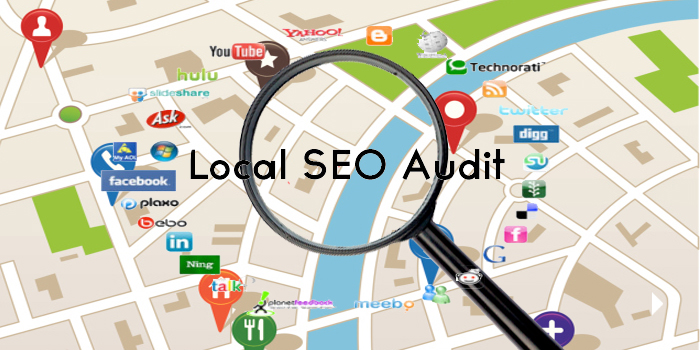 Have you ever wondered why your competitors are out ranking you and taking money out of your pocket? To earn a high ranking in the SERPs Google uses hundreds of ranking factors that will either reward you for your search engine optimization efforts or penalize your website. However there is something you can do about it and it starts by identifying the weaknesses of your on page and off page SEO tactics, by conducting a local SEO audit. Below are vital elements that will help increase ranking or maintain it.
Every time I on-board a new client I start with a website analysis and work my way down the list:
Website Audit
Getting found on Google and other search engines is not as easy as it used to be. Therefore your website is not going to rank without having the proper SEO elements. From time to time when I am on the golf course and strike up a conversation with local a business owner they believe that just because they have a website they should be making money via lead generation and/or sales. So if they appear to be good people during the round of golf, I will offer them a free website analysis so I can show them how bad their website is built.
Here are the most common elements I find wrong with their website:
Missing page titles and descriptions
Missing Location Pages
Slow loading times
Duplicate or no keyword themed content
Missing structured data
Website is being blocked by robots.txt file
Missing or bad calls-to-action
Numerous 404 errors
Poor user experience
Errors in the code
Missing social media integration
Not tracking visits with analytics
Missing conversion tracking
Missing keyword themed H1 and H2 tags
Missing properly labeled images and missing alt tags
These are just some of the basic missing elements that will hinder websites from performing as well as they could be. That's why I would advise that if you have a website that is not ranking, you contact your Webmaster or SEO company to fix or add the missing elements to get the ranking you deserve.
Google+ Business Pages and Bing Local Analysis
Creating, claiming or optimizing your Google+ Business Page or Bing Places profile is vital to earn your way into the Google 3 pack and Bing Maps listings. This has become more important since the Pigeon algorithm roll out by Google. However, in order for your page or profile to rank it needs to be completed as close to 100 percent as possible, listed under the proper category, needs imagery, video, an optimized description and business hours.
Plus as an added bonus these types of profiles will help increase visibility from people who are searching for services or products on their mobile devices. Lastly, your Bing profile and Google+ Business page will help searchers on their mobile devices navigate to your place of business. So if you have not claimed either one, what are you waiting for? It will take 10 to 15 minutes.
Local Citations Analysis
Creating citations are vital to rank organically in geographic areas because they send out signals to the search engines that you are a real local business. Also destinations such as Yelp, Urban Spoon and the Intuit business directory are outranking business websites for search terms like "pizza parlor Irvine" after the Pigeon update.
It's important that the citations you are creating contain the exact NAP that is listed on your Google+ Business Page to ensure that the crawlers find a correlation and see that it's the same business. Also citations contain a link back to your website. One minor tip that I would recommend you do; to reduce the duplicate content make sure you are not using the same business description on all of the citations and cross link then when possible.
One the most common problems that I have seen with citations is, most businesses I have worked with have duplicate listings on the same destination. So if you have this problem at least make an attempt to remove the duplicate listings. If you have login information you can delete them manually, but if you do not look for the contact information of the website where the duplicate listing is and ask them to remove it.
So how do you find duplicate listings, you can do it manually by copying and pasting your business name, address and phone number on Google or you can use a tool like Yext, Whitespark Local Citation Finder or MOZ Local.
Negative SEO or Penalty Analysis
Although according to Google negative SEO will not affect websites and it's not a problem, it is and I have seen a few examples of it working just fine. How do you know if your website has been hit with negative SEO? The first place you want to look at is the analytics. Here is what to look for:
Did your organic traffic take a big dip?
Are you receiving less leads or phone calls?
Second check your Webmaster Tools account, if your website has been claimed to see if you have a love note from Google in the Manual Actions Section. Also check to see if the number search queries for your website have decreased significantly in the Search Traffic section. If you see a decline in traffic, search queries, and have a message, it's time to analyze your back link profile.
Here are few tools that I like to use: AHrefs, Majestic, Site Explorer, Link Detox and Remove'em. With the first three tools you can get a list of linking domains, linking pages, anchor text and other data, but you will have to manually check the links to identify the bad ones. But Link Detox and Remove'em identifies the good links and the bad ones to speed up the process.
This exercise should be performed at least every 6 months or more often.
Business Reviews
Does your business have any reviews on sites like Yelp, Google+, or any other review site? If the answer is, no. Why not? It's important to have as many positive reviews because at one point or another, there will be someone that does not think very highly about your business and they will let the world know about it on a review site. So take the proactive stance and earn as many positive reviews by encouraging happy customers to review your business. Plus, Google+ Business Pages with more than 10 reviews seem to have better placement in the 3 Pack than ones with no reviews at all.
Other reviews sites I recommend:
Social Media Analysis
Being active on social is important to create social signals and to listen to what people are saying about your brand online. You want to be an active listener to address negative and positive mentions in a timely manner. To show fans you are concerned with negative experiences and appreciate any complements you get. Social media will also allow you to create a community around your business and increase branding. And you will be able to showcase items from your menu if you are a restaurant owner.
Instagram and Twitter are a great platform for restaurants and food trucks to post their lunch specials, where they will be for lunch, new items on the menu and use customers as brand ambassadors to increase the number of engagements they receive on their posts. One restaurant that is using Instagram properly is; the Hopscotch Tavern in Fullerton. Big props to the marketing person or team.
Another element about social is paid advertising. Facebook now allows business to target and drop ads on people who are nearby your business on their mobile devices. This will help get more foot traffic to your establishment on slow days.
Competitor Analysis
Performing a competitor analysis is important to find out why they might be outranking you. One tool that is perfect for this is; Georanker. They have several tools that will allow you to see where competitors have citations that you might have missed and where they rank organically. Another tool that you have access to allows you to analyze their website's SEO elements.
For a competitor back link analysis I like using AHrefs, Majestic and Site Explorer. Here is what I look for; linking patterns, example: if 3 out of the 5 competitors have links from a certain website it must be and important link and I want one there as well.
For Keywords I like using SEMRush, this tool provides you with your competitors keywords that they are ranking for and where they rank for them organically. For the paid keywords, this tool does not only give you ranking data but the exact ad copy and display ads if they are running any.
So if you are curious as to why your competitors are outranking you, by performing these exercises listed above you will be able to identify your weaknesses and turn them into strengths.